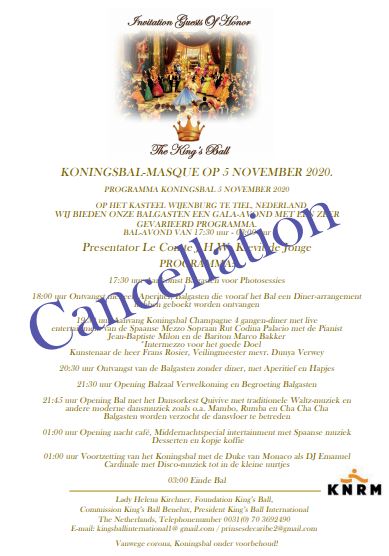 Cancellation
Dear Honorable Ball Guests,
The King's Ball Commission International herewith wishes to inform you that the Royal Ball that was supposed to take  place on November the 5th 2020 at the Castle Wijenburg in Tiel, The Netherlands, has been cancelled due the circumstances of the Pandemic and the situation of the Corona-measures in The Netherlands.
Thanking you for your onderstanding and hoping to meet with you soon at the Royal Ball 2021!
Sincerely Yours,
Helena Kirchner
President King's Ball International 
Weledele Balgasten,
Zeer gewaardeerde Heer, Mevrouw,
De Koningsbal Commissie heeft hierbij de eer u te informeren dat het Koningsbal dat zal gaan plaatsvinden op 5 november 2020 op het Kasteel Wijenburg in Tiel, Nederland, helaas is geannuleerd door de omstandigheden van de Pandemie en de situatie rond de Corona-maatregelen in Nederland.
Wij Bedanken u voor uw begrip en hopen u te mogen verwelkomen op het Koningsbal 2021!
Dank voor uwe interesse in het Koningsbal.
Met hoffelijke groet,
Helena Kirchner 
 Bestuur Koningsbal Commissie 
Welcome at Masked Kings Ball November the 5th 2020


The Kings Ball is a royal gala black and white tie event at which diplomatics, politicians and friends of The Kings ball will be gathering at Castle Wijenburg, in Tiel, The Netherlands. The ball will be held on November the 5th 2020.

Elegant and exquisite 
Kings Ball is an elegant and exquisite historical annual event that will be taken place after 200 years Kings Ball history in honour of His Majesty the King. 
The Kings Ball is also an exiting event full of entertainment, with dinner, banquet, dancing, music, artists and fund raising to be held. 
Dress Code: Requier 
Ladies: Evening dress, Bal gown, Historic costume
Gentlemen: White Tie, Smoking, Militairy gala uniform, Historic costume
Welkom bij Stichting Haagsch Koningsbal 
Het Koningsbal - Masqué zal plaatsvinden op 5 november 2020, in Kasteel Wijenburg, te Tiel, Nederland. Het

Koningsbal is een jaarlijks terugkerend bal in Koninklijke style vol entertainment, hapjes en drankjes. 
Dresscode:
Dames: lange avondjurk, baljurk, historisch kostuums, klederdracht
Heren: rok, smoking, gala uniform, historisch tenue



Info: 

prinsesdecaribe2@gmail.com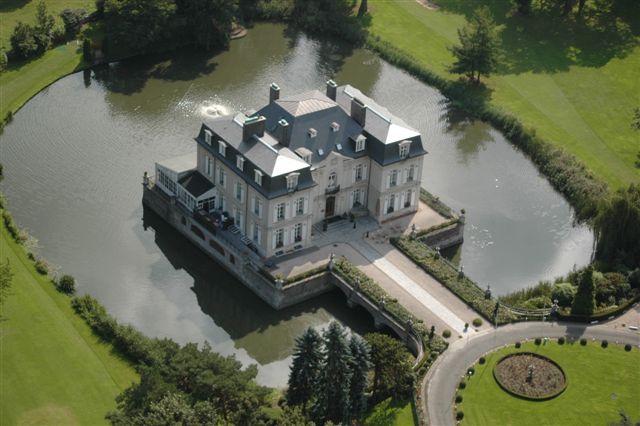 REVIEW:
"Het Koningsbal 12 april j.l op Kasteel van Zwijnaarde te Gent Be.
Wat was dat een onvergetelijke avond, het Koningsbal 2019 in Gent.
De locatie was fantastisch, het eten was geweldig, maar wel veel. Wij zaten met dierbare vrienden. Wij hebben genoten en willen het bestuur van het Koningsbal heel hartelijk bedanken en ook de Heeren van Sminia. Het was een avond om nooit meer te vergeten! Wij kijken uit naar het Koningsbal in 2020".
Geschreven door Ronnie Tober op 12 juli 2019
SAVE THE DATE!!
Honorary Guests,
Welcome at Kings Ball
You are kindly invited to the Masked Kings Ball 2020
The Kings Ball will be taken place on
thursday November the 5th 2020
Please save the date!
Info: Kings Ball Commission the Netherlands
prinsesdecaribe2@gmail.com
0031 70 3692490
Info: Kings Ball Commission Benelux
nancyderiek@gmail.com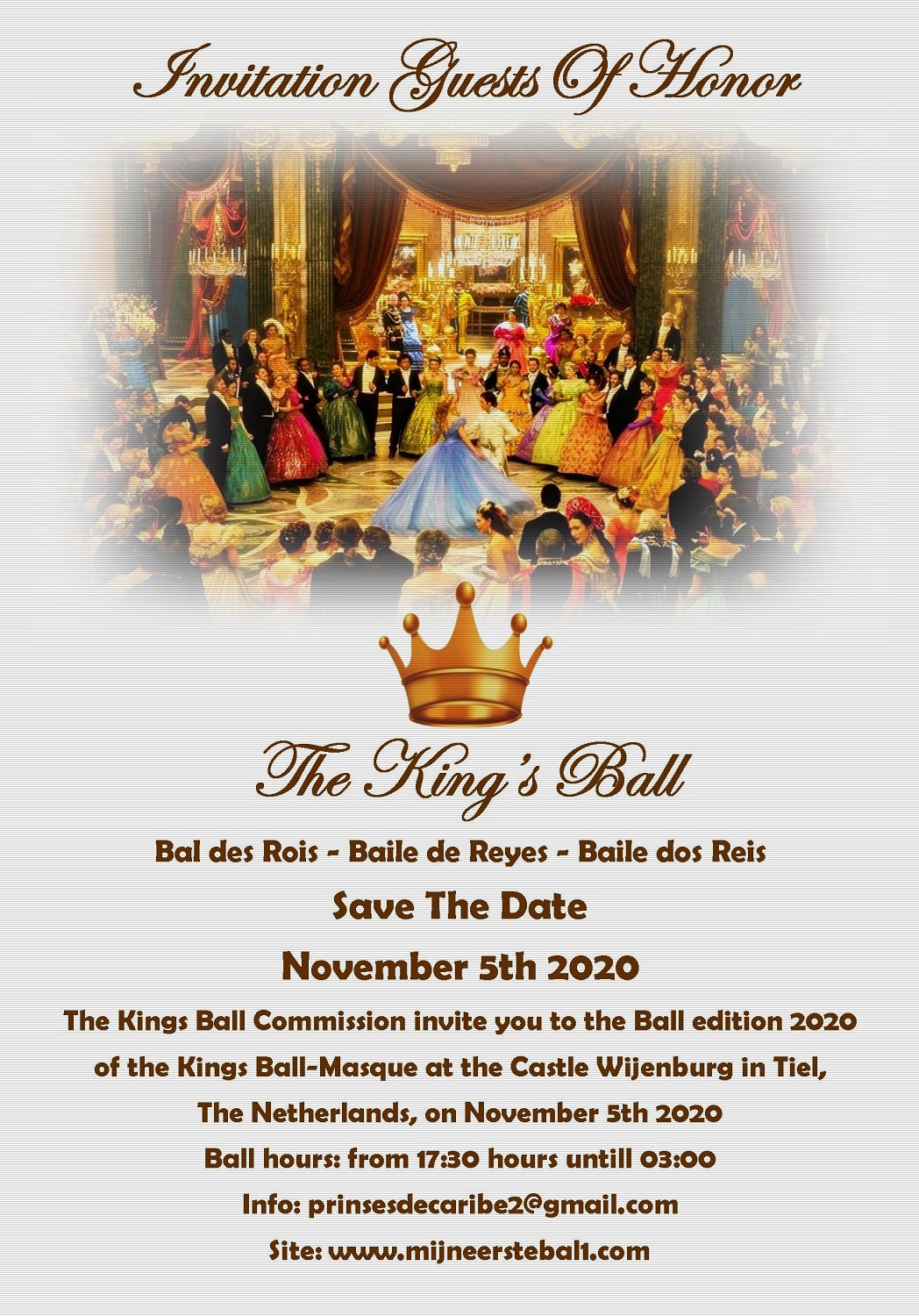 Zeer geachte heer, mevrouw,
Zoals u wellicht heeft vernomen, was het bal in 2019 een groot succes en wij willen u ook voor 2020 een speciale editie aanbieden. Het koningsbal zal gaan plaatsvinden in Koninklijke stijl en atmosfeer in al zijn grandeur. U zult tijdens het bal genieten van een zeer mooi programma. Wij vragen u vriendelijk alvast de datum 05 november  2020 a.s. in uw agenda op te nemen.